Do you think tattoos are a work of art or a mistake?
Hey everybody. Borritos here. My little brother just got his first tat. Its an outline of a cross as you can see. I think its pretty cool for his first tat and in the future with a little work it can be a work of art. So being his first tat and all he decided to take a picture of it and post it on the website of his clan and my old one [ZOW] (which has decided to come back from being shut down). Well he posted it up to see what people thought and one of the owners of the clan and my old business partner said this in his exact words "Tattos only ruin your body for your whole life! Did you ever think that crosses might get out of fashion?". So now my brother feels bad about getting it and feels stupid cuz this one simple comment. So I said it wasnt stupid and with time it can be art. So now Im here to ask you guys and gals, any ideas on what my brother can add to make this tat a work of art like all yours.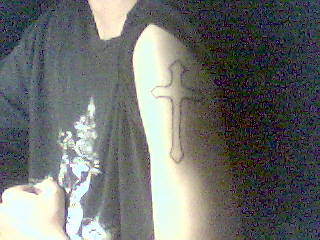 Tattoos are a work of art or a mistake, or both, depending on the person. No one can judge why someone got a tattoo. I think that tats aren't bad at all, and don't ruin your life at all as long as it's not on your face or hands, because then with your hands having tats it might be hard to get a job in the future.

I, myself, have no tats and probably will never get one. My friends have plenty though. I think they can be mistakes....premature thought, not planning it out, just going and getting a random tat is a BAD IDEA, because it will look bad and unplanned (duh!). But if you plan it out right, and have a few artists sketch it out for you, pick the best artist and get it done, then you're good.

I don't have any tattoos because I just have no desire for one. I don't believe the "when you're 70 you're going to be old and the tattoo is going to look like shit" saying, because I mean if I'm 70 I won't give a shit about a lot of things that used to worry me in life, and I'm sure a tattoo I got when I was young will be one of those things.
I like that Jon and see there are ways to approach things and my old business partner has no respect for the feelings of others.
i see tattoo as an art...althought i cant say i like everything i see, i think some things look pretty awesome...i would love to have one but my parents told me they'd disown me lol
tattos are a work of art. Thats why there called tattoo artised. If the peron that has the tatto on him likes it thats the important part. And art can always be altered and improved for our own likings if we get bored of it .
Tattoos are pictures into ones soul....
tattoos are the easiest way to tell someone a story about yourself without having to say a word random drunken tattoos are the ones that are mistakes but planned out storys are the real art work of the tattoo industry i feel we are finally entering an age where tattoos are not frowned upon anymore unless you have them someplace retarded like your face
right arm at the shoulder the start to my first half sleeve i have planned doing it one piece at a time to save money
Member





Posts

: 48


Join date

: 2009-06-11


Age

: 33


Location

: Orlando, Florida



so whats the story behind the demonic moon?
its the start to a grave yard scene on my arm that is going to represent the evil within have another scene planned for the other arm to represent the good within as well
Member





Posts

: 48


Join date

: 2009-06-11


Age

: 33


Location

: Orlando, Florida



---
Permissions in this forum:
You
cannot
reply to topics in this forum